PrintLab Certification Course
Learn everything you need to know about 3D printing in the classroom and become a PrintLab Certified Educator – included in all PrintLab Classroom license options.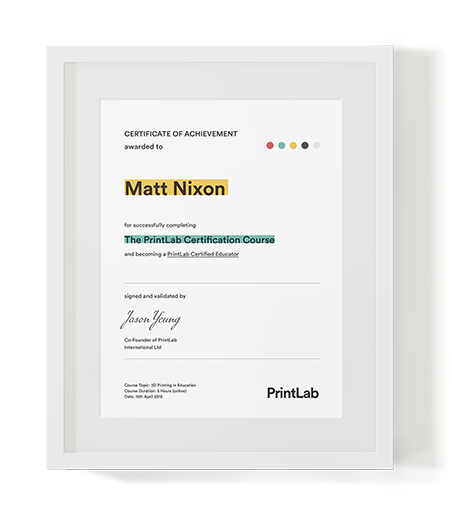 Get Up-To-Speed with 3D Printing
We cover all the basics & essentials
01.
An Introduction to 3D Printing
Learn the fundamentals of 3D printing and the tech powering it. We've got helpful videos and interactive activities to help you.
02.
Benefits of 3D Printing in Education
Hear about the benefits of 3D printing in education from industry experts. Like infographics? We've got lots here.
03.
Introduction to Tinkercad Software
We introduce you to Tinkercad, a free web app for creating 3D models. Find out how it works and create your own teacher account.
04.
3D Modelling Basics
Create your first 3D models in Tinkercad. Don't worry, you're fully guided with information, challenges and tutorials.
05.
Designing for 3D Printing
Bam! We give you 10 essential design tips to create models that will actually 3D print. That's kind of important.
06.
Slicing for 3D Printing
Learn our 'slicer secrets' for preparing models for 3D printing. Everything's covered; from print speed to outer layer thickness.
07.
The PrintLab Curriculum Framework
Find out how you can bring 3D printing into your classroom. More specifically, with the PrintLab Curriculum Framework.
08.
Classroom Management
Don't have enough time or printers to create every student's model? We go over these challenges and more.