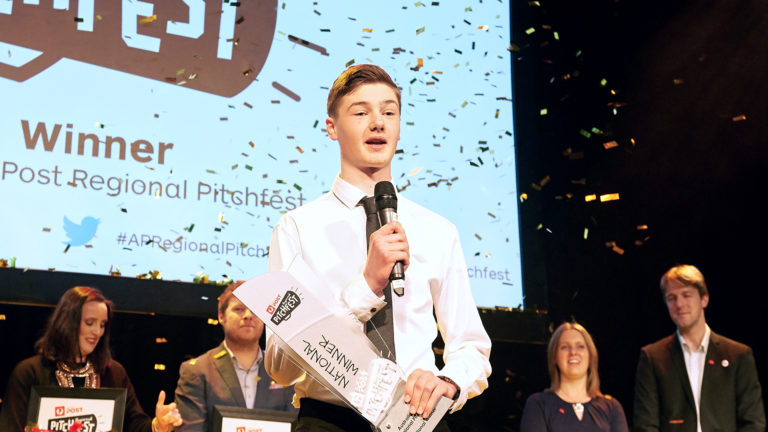 New South Wales finalist 14-year-old Michael Nixon has won the first Australia Post Regional Pitchfest national title after pitching his innovative business idea, The Amazing Annoyatron, against seven other finalists at tonight's gala final in his hometown of Wagga Wagga, NSW.
Michael and his Amazing Annoyatron, which is a fun and affordable educational kit designed to introduce kids and teens to electronics and coding, was awarded the $7,500 first prize, a Melbourne Accelerator Program (MAP) Silicon Valley trip to the US, and an Australia Post eCommerce Business Growth Pack.
Winning the national event in his hometown, Michael said it was an amazing experience to win the Australia Post Regional Pitchfest national final and receive recognition as a regional start-up.
"I'm so grateful to have been a part of this amazing program and to have had this opportunity with great support from Australia Post and Pitchfest founder Di Somerville. I know that tonight's win, and the journey that brought me here, will open many doors for me and my business moving forward – this is a phenomenal kick-start," Michael said.
Runner-up and winning $5,000 was Tasmania's John Hyslop for his business Deviant Distillery, a distillery that uses an innovative new technology that produces a product identical to a 10-year-old whiskey in just 10 weeks.
Australia Post Chief Innovation Officer, Greg Sutherland, said it was fantastic to see the effort the State and Territory winners put in to bring their ideas to a national stage and deliver outstanding pitches.
"It was a tough competition, but Michael's pitch was outstanding. It was creative, insightful and really looked at the issue from all angles to deliver a practical solution that can be applied commercially. I can't wait to see how he evolves his business."
"This is the first year that Australia Post Regional Pitchfest has gone national and we are thrilled with how engaged regional entrepreneurs have been in the program. Our aim when we started was to give regional innovators a platform, voice, and education to take their businesses to the next level, and we feel that has been achieved in this inaugural year. We know this will only continue to grow in the years to come," said Mr Sutherland.
Joining Greg on the judging panel was the Hon. Michael McCormack, Australia's Small Business Minister and Federal Member for the Riverina; Martin Adams, Chairman of the Melbourne Accelerator Program Advisory Board; Kerri Lee Sinclair, Board Member – Springboard Enterprises; and Jane Cay, founder of Birdsnest, an online fashion business based in Cooma NSW.