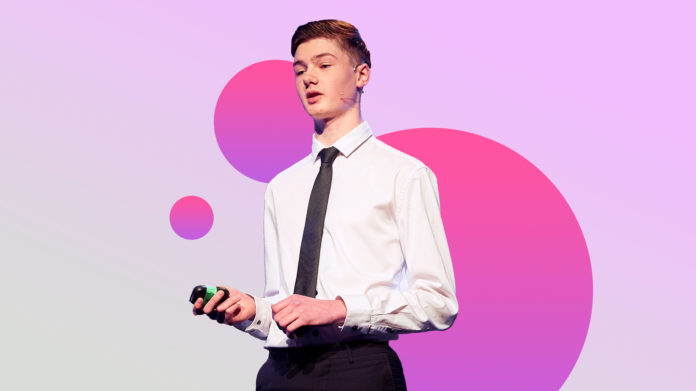 EduKits founder Michael Nixon recently made a powerful impression at the Take Charge – Riverina Leadership Forum, where he spoke to a youth collective of ambitious and visionary leaders. The event aimed to inspire young people in the Riverina region of Australia, showcasing local digital creatives such as former Sony World Photography Organisation Student Prize finalist James Farley and Nixon himself.
Nixon's presentation was not only engaging, but also inspiring. The audience was treated to exploding demonstrations, falling meteors, and even cute dogs pressing big red buttons. However, amidst the chaos, Nixon delivered a clear message: with time and effort, anyone can develop the skills necessary to achieve success on a global stage, regardless of geographic location or perceived disadvantages.
Nixon's own journey serves as a testament to the power of hard work and determination. As a finalist in the international Breakthrough Junior Challenge for his science video on Schrödinger's Cat, Nixon has shown that success is not limited to those who live in major cities or have access to the latest technology. By encouraging the next generation of leaders to embrace their potential, Nixon is helping to level the playing field and inspire young people to pursue their dreams.
The Take Charge – Riverina Leadership Forum was a resounding success, with Nixon's presentation serving as a highlight of the event. The focus on showcasing local digital creatives is especially important, as it highlights the talent and potential of young people in regional areas. With the rise of digital technology, it's becoming easier for people to connect and collaborate, regardless of where they live. Nixon's message is therefore more important than ever: with hard work and determination, anyone can achieve success on a global scale.
Overall, Michael Nixon's presentation was a powerful reminder of the importance of creativity, determination, and hard work in achieving success. By inspiring the next generation of leaders in Australia's regional areas, he is helping to create a brighter future for young people across the country.