Each year in Australia there is a program run called Young ICT Explorers or YICTE as it is commonly known. The YICTE program encourages kids to work in teams to use technology to solve real-world problems. At the heart of most YICTE projects will be a programmable computer board. For those that have an Amazing Annoyatron you'll be well on your way to having some pretty handy skills for getting a project up and running.
What's great about the Amazing Annoyatron is that using its brain board isn't just limited to the projects included with the kit. Kids are able to grab parts from their Annoyatron and use them to make various projects. An example of this was a year 6 team from Kooringal Public School in Wagga Wagga who last year built a fire detecting robot that integrated heat sensors to locate fires in factories.
Last year EduKits went to support the Wagga team and check out the YICTE action at the NSW state final for years 5 and 6 held in Sydney. It was awesome to see the diversity across the entrants. There were kids from public schools, private schools and from the city and the country. The winning entry for the final went to kids from the regional town of Kempsey who had come up with a system for monitoring the accessibility of fire trails using drone technology.
As an event, the finals are an awesome experience for kids. They present their entries to the public and the judges in a science fair type scenario with each team having their own booth space to decorate and demonstrate how their solution works.
With the 2018 YICTE competition now open, it's a great opportunity for kids to form a team at school and to start thinking about what problems exist in the world around them. A key date to be aware of is that registrations for the competition close on 10 June 2018. More information on the YICTE program can be found on their website. https://www.youngictexplorers.net.au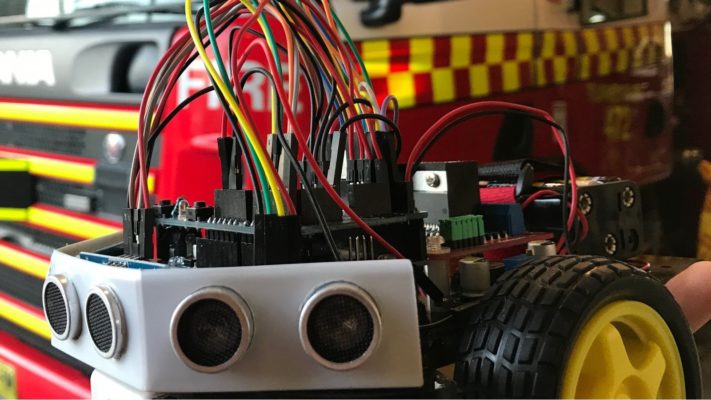 The Fire Safety Alert Robocar. 2017 YICTE entry by Toby and Jayden from Kooringal Public School